Fighting for Change in Forest Advocacy, One Word at a Time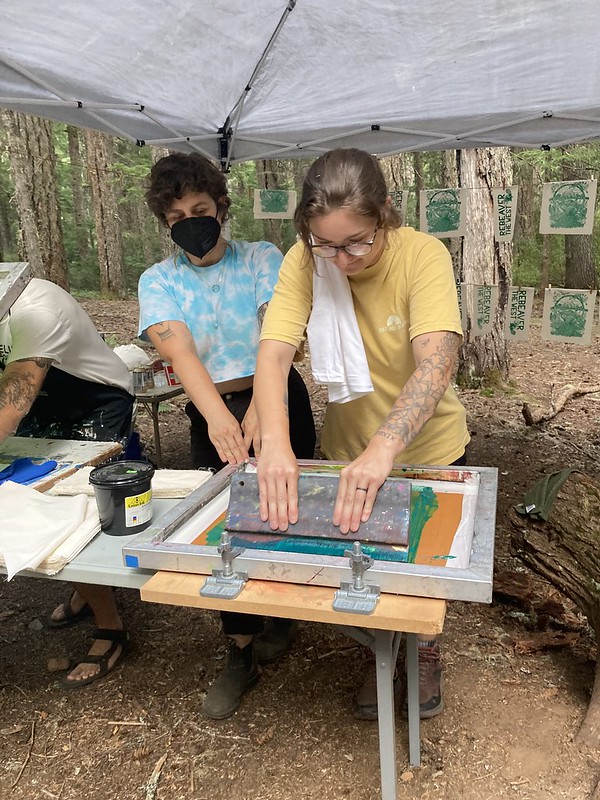 This year, Bark invested in local artists and volunteers who bring new perspectives on communication and engagement to Mt. Hood National Forest advocacy. These invaluable partnerships, alongside our monthly emails, social media dispatches, workshops, and community art events, provide engaging public avenues to communicate and advance place-based environmental justice. When you donate to Bark, you are supporting our staff and activist partners as we bring more poetry, beauty, and celebration into the way we defend the land and tell the stories of this place we all know and love.
For over 20 years, Bark has been deciphering intentionally complex Forest Service lingo to support public understanding in engaging the bureaucratic processes and the management of Mt. Hood National Forest. Now, our work toward equity calls us to unpack our own terminology around environmental ethics, inclusion in conservation, climate advocacy, and cultural knowledge. Bark's Communications Team continually examines our own organizational language to ensure that our internal values are mirrored in our community practices.
The way we speak to each other is deeply codified—from our lived experiences, informal and formal educational systems, to socioeconomic class, race, and culture. So, I want to ask you the same question we ask ourselves all the time at Bark: how can we better communicate to move environmental justice forward together? I believe that one of the ways is to embrace nuance, thoughtfulness, and attentiveness in the ways we communicate. We understand that continuing to speak in old frameworks is not going to bring us closer to each other, yet we face the challenges of climate change together.
For the forests (and for more poetry, too!),
Daniela del Mar, Bark Communications Coordinator
P.S. The Bark Communications Team is growing! We are so pleased to welcome Suzanna Stapler! Read her staff bio and see some of her incredible illustrations here.