Community-generated Science in Mt. Hood's Wetlands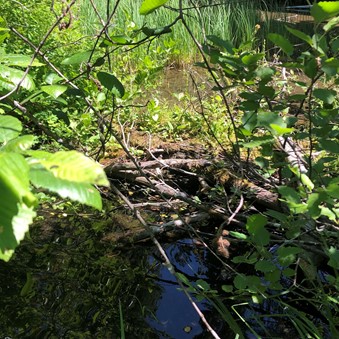 Going on a beaver survey is a little like going on a treasure hunt. It's important to collect useful information about available food, water, and building materials to estimate how suitable the site is for beaver reintroduction. But you can also find evidence of historic beaver activity, like chewed logs and old dams that remain on the landscape. Dams can last a long time after the beavers stop maintaining them and without a major breach or flood they can persist for years. Beavers also help to disperse water through a wetland by digging channels that branch off of the main stream. The channel in the photo above still had a significant depth to it despite not having beavers present in the area for several years. It's fun to imagine what these sites might have looked like at their peak of beaver activity—acres of ponds full of young salmon, long series of dams slowing streamflow and recharging groundwater, and bear and elk stopping by to drink and feed off the many animals and plants that make their home in wetlands.
"I've been a regular monthly donor to Bark since 2009, but I hadn't participated in their volunteer activities until the pandemic hit. Like many people, I found myself with some spare time and wanted to spend it outside so I started attending Bark's beaver habitat surveys, then their wetland delineation workshops, and field trips. What I love and appreciate most about Bark is directly linked to their radical foundation: to preserve, defend, and restore Mt. Hood. It's continuing education without the school institution and tuition fees. There's no monetary exchange. You don't need to be employed in the natural resources field to enjoy field work. It's a radical activist stance that you don't need to exchange money to get a good education and to gain new skills in a supportive environment. You don't have to be employed with the Army Corps of Engineers to gather valuable wetland data. Bark facilitates a major democratization of community-generated science and I enjoy being a part of it."

– Bobbi Brunkalla
"Beavers and their works fascinate me, and it's been so cool to get an up-close look at their dams and lodges on the survey field days. They are ecosystem engineers who modify and maintain their constructions on the landscape. Beaver dams create ponds that provide habitat for salmon, birds, and many other wildlife in the forest. Their ponds and wetlands also act as refuge for wildlife during fires, and aid in maintaining clean water after fire events. Their absence on the landscape creates changes as well, and can overall reduce the area of wetlands and the amount of water stored high up in the watershed. Wetlands are some of the most biologically diverse and productive ecosystems on Earth. After the widespread trapping and hunting of beavers in the 19th century, wetlands lost one of their best partners and many areas experienced local extinction of beavers that persists today. Beavers are a keystone species in wetland ecosystems and their restoration improves water storage, water quality downstream, and many other ecosystem services.
On a wetland survey, it's helpful to look at soil samples to determine the quality of wetland and water availability in an area throughout the year. This summer, we learned how to collect samples and estimate the composition of soils. Determining the organic and mineral content of the soil, as well as moisture and other indicators, gives clues about how the wetland functions and how water moves through the site. The sample pictured above is a thick layer of peat, an organic soil that is one of the most efficient carbon sinks known on Earth. Peat forms really slowly, over millennia, and this indicates that the site has been consistently wet for a very long time.

Participating in Bark's beaver and wetland surveys this year was the highlight of my summer. After a year spent mostly indoors, working and worrying about keeping my family safe from Covid, I found it incredibly rejuvenating to be out in the forest doing good work with like-minded people. Additionally, I have been recovering from an injury and subsequent chronic pain experience that would have made this type of activity feel impossible just a few years ago. Watching myself complete field days and longer hikes has been so affirming in my recovery journey, and has given me more confidence to continue volunteering and exploring off the beaten path in the MHNF."

-Drew Haven
With the ongoing threat of climate change, it's more important than ever to have healthy wetlands. Our dedicated, passionate volunteers work to identify sites on Mt. Hood best suited for future beaver reintroduction with the goal of increasing water storage capacity for the future. Days spent in the field are just one way to contribute to this important work. While we just finished up the last habitat restoration of the season, training will begin again in the spring. In the meantime, please consider contributing to this work with your donation of field gear.
See you out there!
Bobbi + Drew