Action Alert: Keep it in the Forest!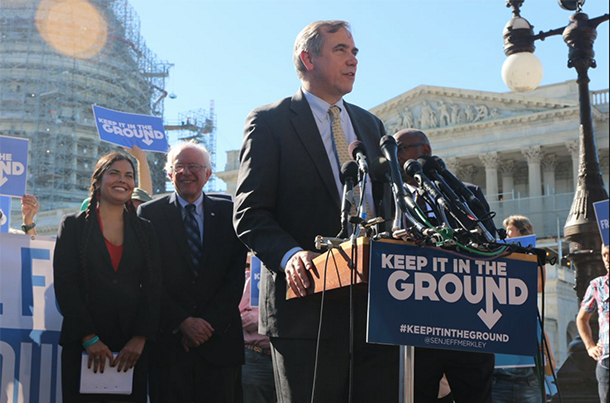 Oregon Senator Jeff Merkley has made a name for himself in Congress by advocating for aggressive action on climate change and campaigning for the federal government to "Keep it in the ground." More than most politicians, there is integrity between his action on addressing fossil fuel emissions and his messages and values.
But, when it comes to the timber industry's impact on carbon storage and emissions, Oregon's climate champion in the U.S. Senate has a blind spot.
Senators Jeff Merkley (D-OR) and Bernie Sanders (I-VT) introduced the Keep It In the Ground Act on November 4, 2015. (Photo: office of Sen. Jeff Merkley)
A few months ago, I read with some dismay an email from Sen. Merkley titled "A Win for Oregon Timber" in which he shared that he helped secure $3.5 million in federal grant funding, including $1 million for Oregon State University, for cutting-edge research on mass timber building in the latest federal government spending bill. Mass timber buildings, also called cross-laminated timber (CLT), are billed as a "green" or climate friendly construction material, yet the relationship between wood buildings and carbon storage is complex and scientists say that much more carbon is stored by keeping trees in the forest, not cutting them down.
Sen. Merkley, along with Sen. Wyden, has also introduced legislation to circumvent the current restriction on using biomass generated from federal lands to make "renewable" fuels, a phony climate solution that has been roundly discredited. The Senators claimed that the use of biomass would "promote healthier forests, more carbon sequestration, cleaner transportation fuels and strong protections for old growth forests." While this sounds like a win-win approach, it simply doesn't match reality. Earlier this year, more than 500 scientists and economists called on world's nations to not burn forests to make energy because the current research finds that burning forest biomass is dirtier than burning coal and that one of the best ways to curb climate change and sequester carbon is to allow forests to keep growing.
Today, Bark and our allies from the Pacific Northwest Forest Climate Alliance are meeting with Sen. Merkley's staff to ask the Senator to stop ignoring the relationship between logging and carbon emissions and to take immediate action to protect mature and old growth trees in carbon-rich Pacific Northwest forests.
While it may be hard for Sen. Merkley to step away from his timber industry loyalty, it is essential that he take a more climate-informed approach to forests and logging. As he recently said in an OpEd in the Washington Post: "The climate crisis is one of the biggest emergencies that our country has ever faced, and our time is running out. . . Let's act boldly, and treat this crisis like the emergency it is."
Hope to see you in the forest!
Brenna Bell, Staff Attorney/Policy Director
P.S. Join Bark and our allies in Salem on Thursday, May 6, 2021 at 4 PM to rally for protecting places like the Santiam Canyon, the McKenzie and Umpqua River drainages from ODOT's rampant post-fire logging!