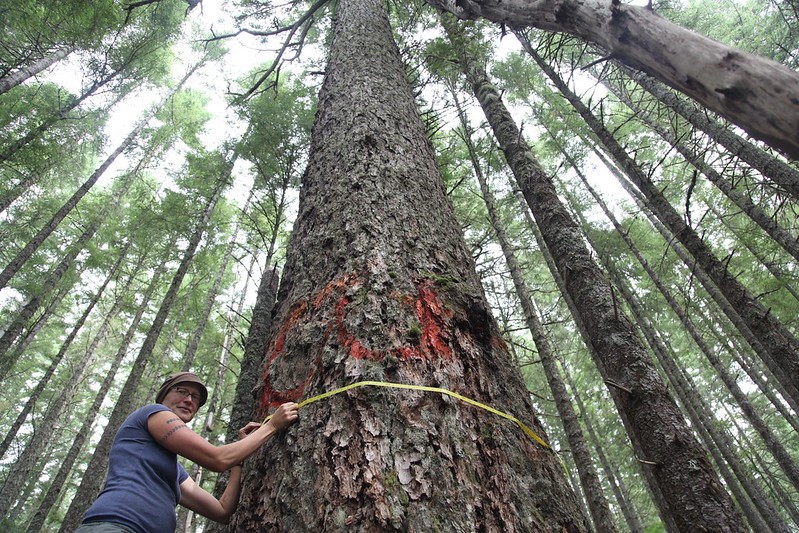 In spring of 1996, I spent my college semester in a small village on the west coast of Vancouver Island learning about rainforest ecology, environmental policy, and the history of forest defense. One evening, my life changed when an instructor, freshly back from something called the Environmental Law Conference in Eugene, popped in the video cassette "Logs, Lies and Videotape". I remember the grief I felt learning about the Salvage Rider and lawless logging and watching the names of the forests I grew up with flashing on the screen while the narrator spoke of their doom.
Right then, I decided that my life would be dedicated to saving these forests.
Since that night, my path has had many twists and turns but it always returns to forests: saving Mt. Hood's Eagle Creek with the Cascadia Forest Alliance, becoming an environmental attorney, working with KS Wild and Willamette Riverkeeper and—10 years ago, getting the job for which I went to law school—protecting Mt. Hood's forests with Bark. Each step of the way was guided by this land I live with, that I love.
Through this journey, my understanding of what it means to "save the forest" has changed. After years of wins and losses in fights over specific groves of big old trees, my vision has grown to see "the forest" as the whole web of relationships that sustains life on earth. Defending that web requires transforming our entire relationship with the land, personal and cultural. This means reckoning with the damage of colonialism and genocide of Indigenous peoples and lifeways. This starts with restoring a right relationship with fire and water, questioning the ethics of federal public land, and challenging white supremacy in the conservation movement.
Over the last 10 years, I've been proud to be part of Bark as it has taken on the responsibility of transforming not only forest management, but our relationship with land. It has been a gift to be an advocate, educator, organizer, and friend to the forests surrounding Mt. Hood. And it has been my pleasure to share it with you! We've learned together, hiked together, camped together, been in court together, and (even if we never met) we've been part of a movement together. Thank you!
It's with considerable bittersweetness that I've decided to leave my staff position at Bark. Over the past several years, I have become more focused on issues at the intersection of forest management and climate change, and I'll be able to give these urgent issues my whole attention as 350PDX's new Forest Climate manager. My last day as Bark staff will be July 30, but I'm not going far! I'm forever part of this movement and you'll see me at Bark events. Whenever the White River fire closure is lifted, I'll lead a Crystal Clear Timber Sale victory Bark About to visit the trees still standing because of Bark's work.
My departure creates space for a new voice on staff at Bark! If you are interested in engaging a great mix of research, education, advocacy and organizing (this job was never, ever, boring) or know someone who may be, please read and share the job announcement for Bark's new "Forest Policy & Advocacy Coordinator."
Forests have led me on this amazing life path. I am so grateful to the lands and waters that have sustained me, to the Barkers who have walked this path with me, and to this entire community for fighting the good fight, together.
For the forest,
Brenna Bell, Bark Staff Attorney and Policy Coordinator
P.S. View more opportunities to become part of Bark's staff and join us in this movement!