Wetlands Campout: Forest Screenprinting Edition with Roger Peet!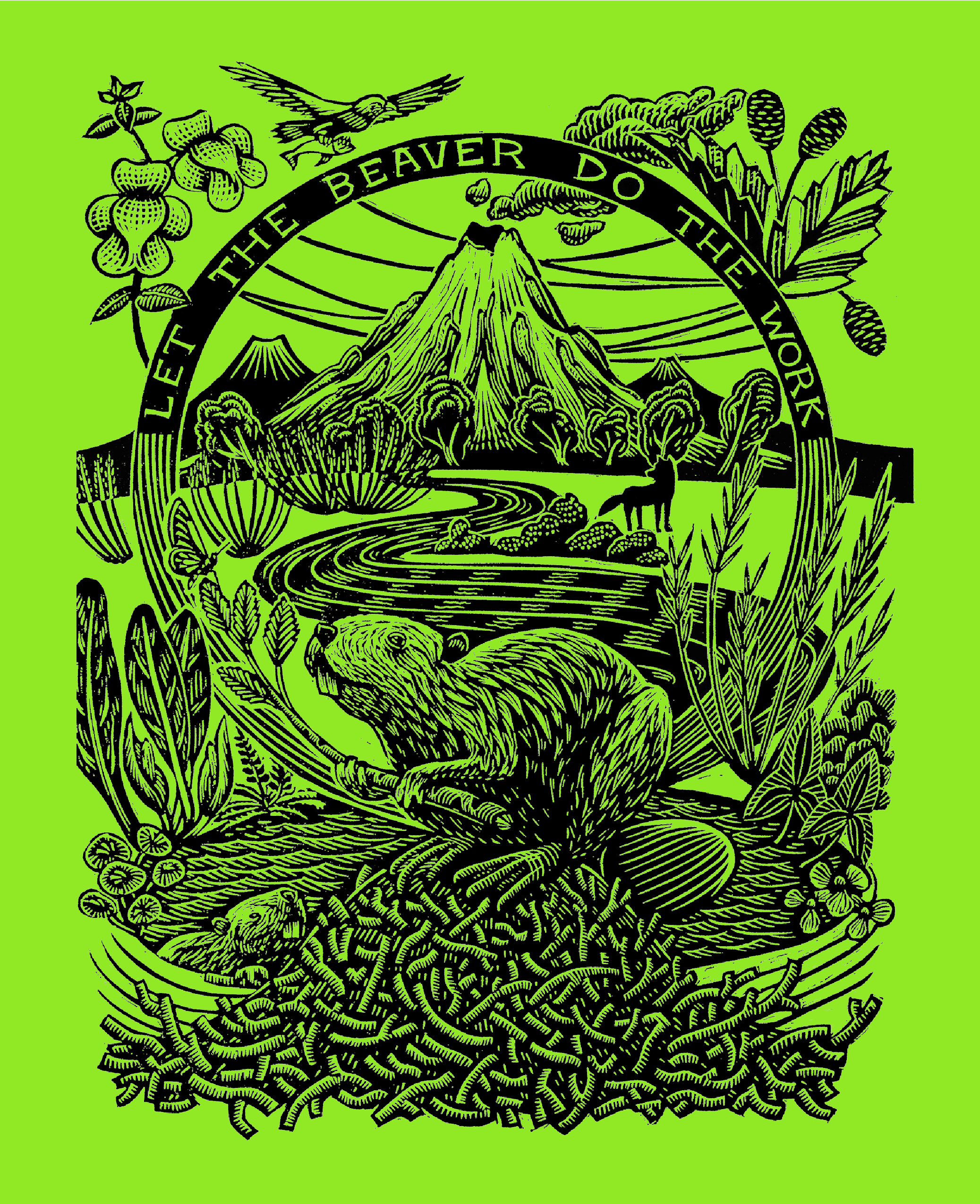 "Let the Beaver do the work! This continent was once the undisputed domain of beavers, whose aquatic engineering defined and shaped habitats throughout the land. The arid West was a lot less arid when every streamlet had a resident beaver carefully conserving water, and the vegetation of riparian areas was so heavily influenced by beaver activity that it had robust effects at almost all levels of an ecosystem, from trees to salmon to eagles to butterflies and wolves. After their thorough removal at the hands of a rabid trapping industry and the subsequent transformation of much of North America's wild lands by industry, the beavers are now making a comeback. They're fanning out into the landscape after decades of efforts at reintroduction, and reclaiming the water and the piles of sticks that are their natural dominion. They need our help, and our loyalty! They will restore these battered landscapes more effectively than we ever could." —Roger Peet
Join us for a few days of wetland mapping and beaver habitat surveys in Mt. Hood National Forest!
Friday, July 29th Open to arrivals starting at 6 pm
Saturday, July 30th We'll provide a sweet and savory breakfast to open the campout with before we head out into the field from 10 to 4. Bring your own lunch!
That evening, we'll be joined by artist + activist, Roger Peet from Just Seeds, to screenprint t-shirts and patches in the forest with his beautiful artwork featuring none other than the beaver! Dinner will be provided by Bark. Bring your own t-shirt or cloth for patches and we'll also have some extra cloth on hand.
Sunday, July 31st – August 2nd Continuing beaver habitat and wetlands mapping work.
Come out for any part of the day or stay with us for the entire time.
This is an in-person event and will follow Bark's COVID-19 fieldwork safety protocol.

Before registering: Everyone interested in participating in Bark's wetland mapping efforts is welcome at this campout! If you have wetland mapping training, we'll send you into the field to get started. If not, please review Bark's online wetland mapping training materials. Also, on Saturday we will offer a hybrid training/field day to anyone new to this work.

Questions? Visit Bark's page what to expect on a field day, what to expect on a campout, or for more information email Misha, Bark's Forest Watch Coordinator.
Roger Peet is an artist, printmaker, muralist and writer living in Portland, Oregon. His work tends to focus on civilized bad ideas, predator-prey relationships, and the contemporary crises of biodiversity and Capitalism and what can and can't be done about them. He coordinates the national Endangered Species Mural Project, and helps to run the cooperative Flight 64 print studio in Portland. He collaborates with artists, organizers and scientists globally and locally in the service of a more generous and a wilder world.