Who will own the forest? For the attendees, sponsors, and speakers at the "Who Will Own the Forest?" event later this month, the answer to that question is simple – they will.
On September 26th – 28th, Wall Street investment firms, timber corporations, and carbon offset & biomass companies from around the globe will meet at the World Forestry Center in Portland to discuss the "drivers, trends, and impacts of institutional timberland investing." For $2,800, attendees will learn about the newest financial strategies and opportunities for growing capital with forestlands.
Over the past few decades, much of western Oregon's private forestlands have been restructured and consolidated into Real Estate Investment Trusts (REITs) and Timber Investment Management Organizations (TIMOs) operated by large corporate entities. For example, Weyerhaeuser, the largest private forestland owner in western Oregon, operates as a REIT.
What this means is that although industry lobbyists might promote REITs and TIMOs as "green" and "sustainable" investments (they're growing trees after all, right?), their primary goal is generating profits for shareholders who live all over the world. They do not grow forests. They don't even maximize wood production. Instead, they maximize the return on investor capital, leading to bad outcomes for local people, communities, ecosystems, and the climate.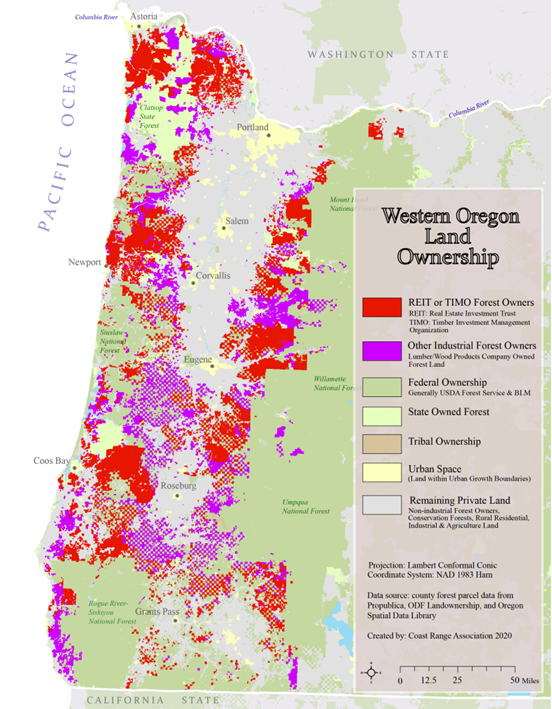 To counter this rhetoric, we hope you'll join the forest defense and climate justice movement on Wednesday, September 27th, for a massive demonstration at the World Forestry Center to show these Wall Street elites that managing forests to maximize profits for the rich will be met with increasing resistance. There will be speakers, music, marching bands, theatrical performances, art & creative resistance, and more!
Additionally, on Thursday, September 28th the Forests Over Profits conference in Portland will highlight real solutions and the need for fundamental systems change in the face of capitalist exploitation. Join us 10am-5:30pm in support of alternatives to corporate, profit-driven management, including Land Back and other indigenous land management systems, community forestry & land trusts, and sustainable forest management. Register at https://forestsoverprofits.org/.
Hungry for more info? Check out the links below:
Ecosystems do not follow artificial property boundaries, and greedy decisions made by a small handful of wealthy elites have cascading effects on the rest of the region and the people who live here. We need solutions grounded in community and respect for each other and the rest of the natural world. Let's join together and take a stand. We hope to see you there!
For the forests and communities,
Jordan Latter, Forest Watch Coordinator