The Best of This Volunteer Season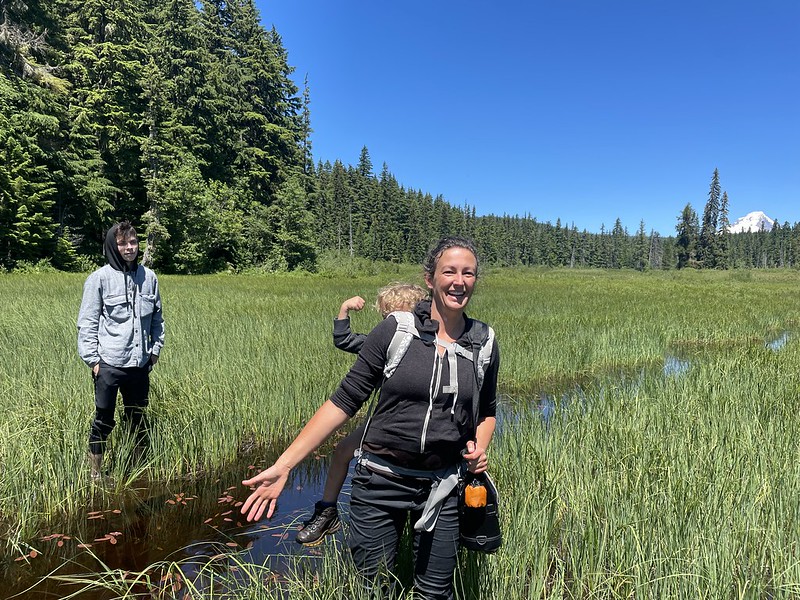 Our hat's off to the over 70 new volunteers and the staunch return volunteers who powered community science efforts to complete this year's data collections! Bark volunteers travelled to the east and west sides of Mt. Hood, groundtruthed timber sales, mapped wetlands and identified suitable beaver habitat around Timothy Lake. From sunburns to bug bites to bushwhacking, and mud puddle falls, Bark volunteers take the trophy this summer for "Best Bloopers and Most Inspirational".
When surveying, we like to keep a slow pace, especially in the wetland where uneven ground and slippery conditions are common. On a trip out by Little Crater Lake, determined volunteer Jessica carried her youngest, Deodar, on her back trudging after me through some knee-deep water to document the beaver lodge located across the bank. When I took an unexpected plop into a 3-foot-deep beaver canal, Jessica met the same fate! I have to say, I love falling in the mud—but quite frankly—not as much as our volunteers do.
At another survey location the following week, the rear window of Misha's Suburban popped off without warning…almost like it wanted to stay in the forest. Working with what we had, we stuck the window in the trunk and strapped the gaping window closed with rope to keep our gear from spilling out onto Highway 26.
All bloopers aside, I am inspired by many of our volunteers. Aleeza Stein, age 13, shared this reflection with me:
"When we were looking through [the ID books]. It felt like something that doesn't happen for me a lot—I felt connected to everybody around me… To anyone who wants to get involved: volunteer at Bark, because getting involved and being out there and doing those surveys is so powerful, and moving, and really fun!"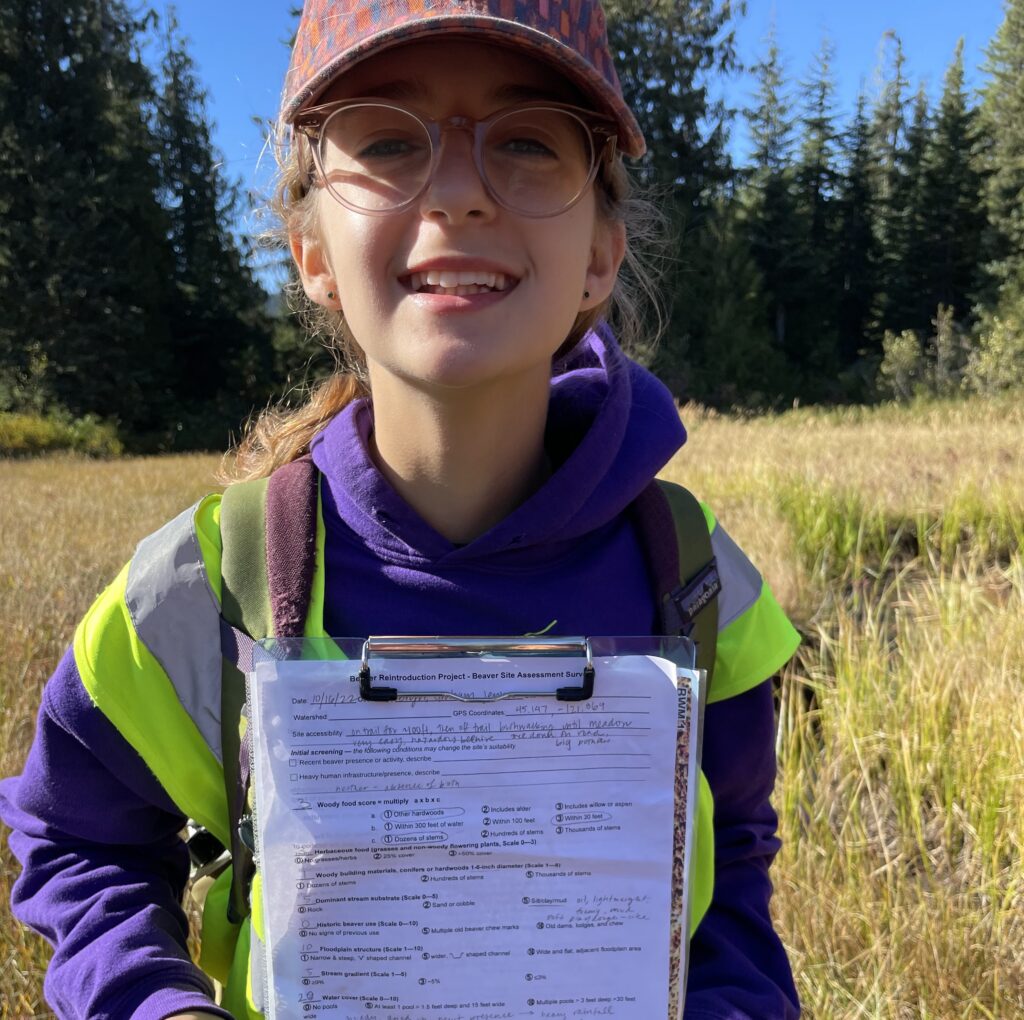 Our heartfelt appreciation and gratitude go to our volunteers' good spirits, tenacity, and hard work. What we do together provides critical information supporting us to advocate for the protection and restoration of plant and water communities on Mt. Hood. The power behind these efforts, and writing a good story while doing it, is what the mission at Bark is all about. I hope that we can continue to share more stories together at Bark's upcoming Fall Social (Saturday, November 5th 10 am-12:30 pm)! Even if you couldn't join this season, consider coming to the forest and connecting with others over coffee and donuts. If you'd like to join our efforts mapping wetlands, identifying beaver habitat, and walking timber sales, you will have to wait for warmer days and join us for our Rad◦i◦cle Activist Trainings in the spring.
Best Fishes,
Grace Willett, Bark Summer Field Coordinator
P.S. Bark is Hiring in Communications this winter! Read more about the position here.