New Faces and Communal Spaces for Getting Involved This Spring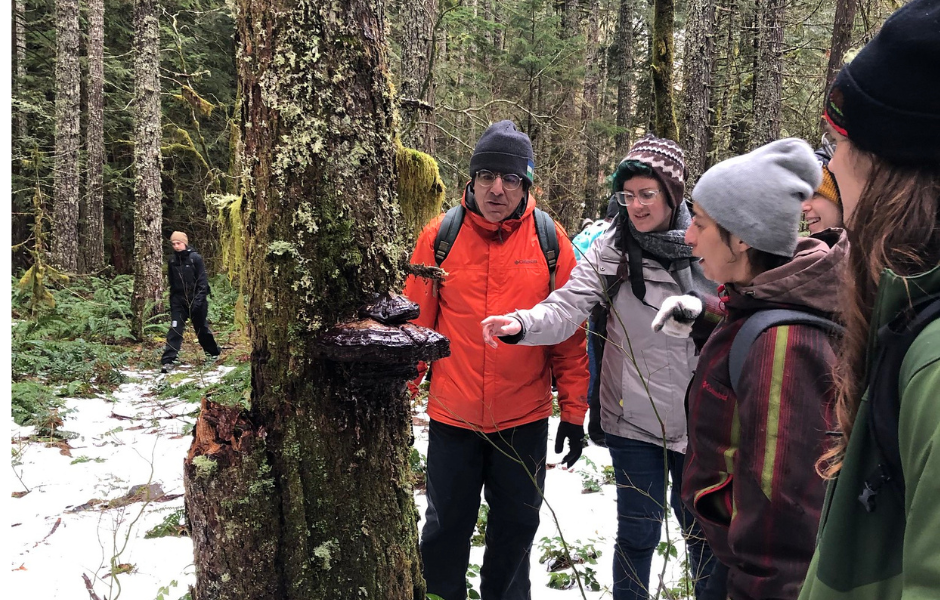 Hello! I hope this email finds you soaking up all the budding possibilities of spring. I'm excited to share that our team continues to grow with the addition of Christine Jervis (she/her). As Office Manager, Christine will apply years of organizational and managerial experience to Bark's bookkeeping needs, office operations, benefit systems, development processes, and more.
Christine shared with us a few reasons why she's thrilled to join the team at Bark. Enjoy the following Q&A as we welcome her onboard!

What is your favorite part about Bark's work?
"One of my favorite parts about Bark is our Radicle Activist training program, which hopes to empower the community to connect and take part in the protection and care of the forest that surrounds and sustains us."
How do you enjoy spending time in "Mt. Hood National Forest"?
"I enjoy exploring amongst the trees and searching for birds. I am very fond of the mountain lakes and the feeling of being so close to the sky."
What's a fun fact about your professional or environmental background you'd like to share with the Bark community?
"I worked at the Oregon Zoo with youth volunteers, and I had never heard of a vinegaroon before that experience. They quickly became one of my very favorite ambassador animals. I am still in awe of this marvelous arachnid!"
Woohoo! We're glad to have Christine joining us, and soon, we'll be sharing news about two recent team additions for the positions of Forest Field Coordinator and Summer Crew Lead. However, we're saying farewell to a member of the team this month as well: Interim Director Kiko Garcia. Kiko has walked with Bark since December 2023, taking steps to help establish team culture, navigate staff transitions, and create safe spaces for productive dialogue to unfold. Kiko has been a source of encouragement for everyone on the team, and we wish him the best as he enters a new season of life. Here are a few of his parting words to share with the Bark community!
"I appreciate the opportunity to work with Bark immensely. In my brief time with Bark, I have learned about the need to protect and restore ecosystems in and around 'Mt. Hood National Forest.' I want to take the time to recognize the vibrant volunteer community who helps Bark tremendously, and equally important, I would like to recognize the entire staff and Board at Bark who have converted these spaces to learning environments which can challenge current narratives around forest management. With the utmost gratitude and much respect, thank you all!"
Big thanks, Kiko! Your contributions to the Bark mission these past few months are deeply appreciated.
And speaking of appreciated… let's talk about YOU! The Bark mission is only possible through the efforts of an incredible volunteer and supporter community. You are the best, and we can't wait to hear your ideas and hopes for 2023. With that in mind, we're excited to welcome you to a Radicle Volunteer Orientation to share upcoming programs and ways to get involved at Bark.
We look forward to seeing you on 3/29, and please reach out with any questions that come up in the meantime.
Stay Rooted!
Suze Stapler, Communications and Volunteer Engagement Organizer
P.S. We're hiring! Learn more about our open Development Specialist role and apply today.
P.P.S. Earth Month is coming up soon, and we can't wait to celebrate with you and our partners at Earth Day Oregon. Stay tuned for fun updates from our local business partners and Earth month events!