An Interview on Bark's Environmental Justice Efforts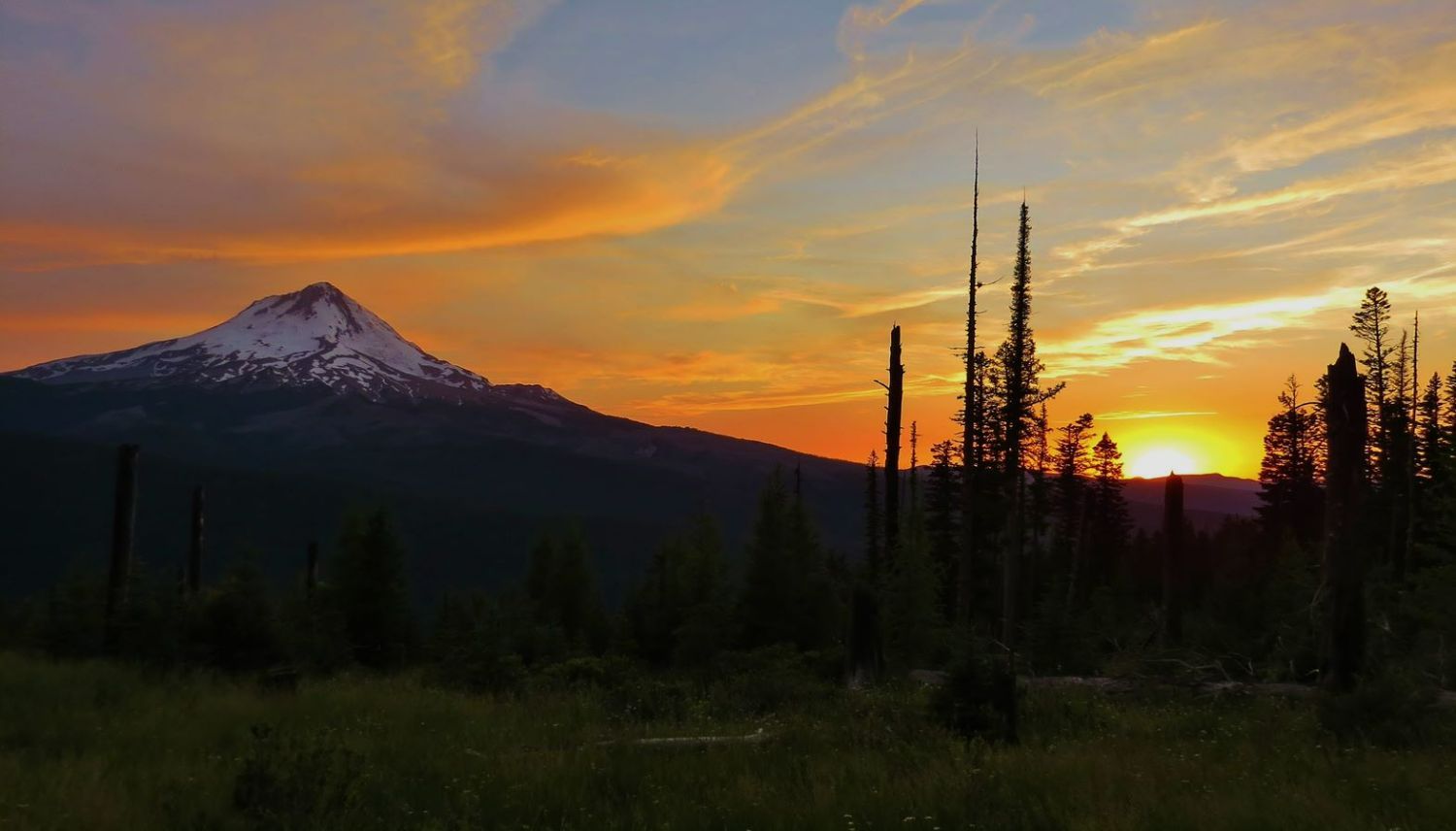 Earlier this year, Bark created two new positions – Native Communities Liaison and Environmental Justice Engagement Coordinator – to lead our work reconciling the paradox of defending and protecting forests on stolen lands. I sat down with Al Rose and Katie Stanton to discuss their first few months at Bark, embracing experimentation in Bark's environmental justice work, building community, resource reciprocity, and more.
Your support makes a world of difference. Fund Al and Katie's work to reframe conservation by donating today!
Now that you have a few months of work under your belts, what focus areas have you identified as key priorities?
Al Rose: Mainly building/rebuilding relationships with Native community members in the Portland metro area. Bark has limited Native contacts to work with and talk to, so these past few months I have honed in on establishing community connections. I'm hoping through this process that I can learn more about Tribal-specific issues that are not only related to Bark's forest advocacy work, but also other interrelated environmental justice causes we can support.

Katie Stanton: While working to get involved in local community efforts, I've observed an apparent disparity of public input within decision-making processes, and subsequently accessing informational resources… Due to these interactions, I'm starting to focus on identifying barriers of access within these spaces to create equitable opportunities for traditionally excluded public members to engage in forest advocacy.
What are some possible project topics or engagement opportunities that you are excited about?
AR: Community events like storytelling hours, Native-led and Native-only Bark Abouts, and youth programming! I'm organizing a community event, Owed to The Mountain, on May 21st that will feature Native voices and stories. I want to expand on this event and establish a storytelling program where Bark hosts three to four events like this each year. It would be a great space for Native peoples to come together and be in community. 😊

KS: I'm excited about the opportunity to offer programs in partnership with local organizations such as leading hikes and trainings with the communities they serve. I am optimistic that these interactions will lead to open conversations with those who attend regarding public perceptions of forest management and resource values. These conversations will be important in my work to evaluate current Forest Service practices and policies and in Bark's effort to lessen the disparity of public input within decision-making processes.
Thinking big, what does your dream program look like?
AR: Youth mentoring is something that's been on my mind as of late. I'd like to work with Indigenous students at PCC and PSU to create a fellowship program where two or three students spend a quarter working on a project with Bark and get paid to do it! Another is getting Native youth out on the land to learn about its history, traditional knowledge, and just find space to exist in nature without non-Native constraints.

KS: My dream program would offer tailored specific programming resources identified through open conversations with community members regarding human-ecological interactions and relationships within forests. It would allow Bark to gather this information from the public while building a strong foundation of trust within communities impacted by Mt. Hood National Forest and grow reciprocal and long-term relationships with local organizations. This will require Bark to reflect on our own advocacy efforts through program assessments and learn how to best serve those who we engage with to avoid extractive practices and counter the results of centuries of disenfranchisement within land management and lack of resources. Broadening the awareness of varying human-ecological perceptions will also be key in recommending new processes to the Forest Service for equitable engagement.
How have you been applying your past experiences to your work with Bark?
AR: A few years ago, I moved back to the rez and was part of a youth fellowship with Black Mesa Water Coalition, a now disbanded Navajo & Hopi environmental justice org. That summer taught me a lot about Just Transition, climate work, and grassroots organizing within our own (Diné) cultural values. The Just Transition frameworks we talked about could work with Indigenous communities up here too. All that aside, I hope to introduce a community-oriented framework to Bark. Indigenous communities have long been stewards of the land, and relationship with the land is rooted in community, so why aren't we doing this at Bark? Also, how do we expand Bark's current community to include marginalized voices?

KS: I've held conversations across Oregon regarding forest management and coastal hazard mitigation processes in order to understand sense of place through not only the physical and geographic location of places, but also the attachment that others feel to nature. There are always things I've never considered that come up in conversation which open doors of creating actionable change through the inclusion and participation of more voices. These experiences have taught me to go into engagement opportunities without assumptions or expectations of what people want or how they think and just constantly listen and learn from what they share. I'm carrying these values into Bark as a foundation of my work to make sure I stay open to new perspectives and opportunities.
As these positions are new and somewhat open-ended, how do you plan on staying accountable to Bark's Social and Environmental Justice efforts within your work?
AR: For my position, my accountability is to the Indigenous communities that I am working with. Bark's environmental justice efforts come second, since those efforts can only be fruitful if I'm actively putting the needs of Indigenous peoples first. Since my position is a bit more community-driven, it's been a bit harder to cement structure in my day-to-day tasks. There's just so much that Bark hasn't done before, and I feel pulled in multiple directions! I hope to meet with Native folks often to discuss what can I do with Bark's resources right now and start identifying the community's long-term goals. Of course, those long-term goals can only happen if we hold space for conversation, process, education, planning, and action.

Four months into the job, this is looking like connecting with Tribal peoples and building relationships. Hopefully, with time, different actions and partnerships can sprout from these seeds. Eventually, I want to host a space for Indigenous Community Roundtables where Native peoples can share stories of all kinds: new environmental policies that affect their communities, actions they're working on, support they might need from organizations like Bark. Space to hangout and exist on the land. Making room for more Native voices, and maybe someday… making it only Native voices!

KS: I hope to deconstruct systemic barriers within institutions that create inequitable access to resources and yet I contradict myself by working within the framework of institutional processes which perpetuate epistemic violence. I plan on staying accountable by continuously recognizing that paradox in which I operate while doing my best to work against the systems that created it.

Mt. Hood National Forest is managed by an agency that was founded on viewing natural resources as a commodity which humans are superior to and therefore can exploit it as they see fit. This has created decades of policies dismissing any other viewpoints and management processes therefore denying equitable access resulting in systemic barriers. While I advocate for more inclusive practices and policies, I still work within the systems they have created as well as build my own processes using institutional training and education also built on supremacist values. It is important for me to acknowledge this paradox and hold myself accountable for using supremacist processes while striving to work against them at the same time. I encourage others to be conscious of the paradoxes they operate within and work towards dismantling them.
Has the freedom to experiment and develop these positions affected your plans for these roles or presented any challenges?
AR: This is the most freedom I've had to develop a job and it's exciting and a little scary! I don't think there's ever been a position like mine in an environmental non-profit before, so the structure I'm going by is very loose and undefined. It forces me to be more intentional with what I choose to focus on, what projects I come up with, and where I see this position going in the long-term. Ultimately, my plans for the position are community guided and will shape to fit whatever Indigenous community needs and priorities are.

KS: The freedom to experiment has created a challenge in narrowing down a focus of interest and what and who to pursue in various opportunities. This position is meant to advocate for environmental justice which is a cause that includes many different factors such as power dynamics, inclusion, policies, equity, biodiversity etc. Due to the broad nature of environmental justice, I attend meetings and speak to people focused on many different things which present new topics and ideas all the time. Compiling my gathered experiences and choosing where to start has been the hardest part so far but I know that with time my role and plans for this position will become more apparent by continuing to listen and learn from community members.
How can our audience support this work?
AR: Donate to Bark and secure our new jobs! Do research on whose land you're on! Pay reparations to Indigenous peoples whose land you currently occupy!

KS: Our audience can support this work by donating to Bark's Spring Fundraising Campaign, actively listening, respecting, and staying open to new and different perspectives around you, and by sharing our new focus with interested community organizations to create new partnerships!
In less than two weeks, the Bark community has raised over $3,000 and we're well on the way to reaching our Spring Fundraising Campaign's $8,000 goal! Make a gift today and help us fund this important reconciliation with the roots of conservation efforts on Mt. Hood.
For the Forest,
Summer Noller, Development Coordinator
P.S. Join us for Owed to The Mountain, a showcase of our unique collaboration with Diane Jacobs and Warm Springs Tribal Members to grow, acknowledge, and connect with stories, habitat, and the natural communities of Mt. Hood.
P.P.S. Your employer may have a giving program that matches your gift in a few easy steps! Sign up for an employer matching program today and boost the impact of your gift!