Rad-i-cle Training: Pika Surveys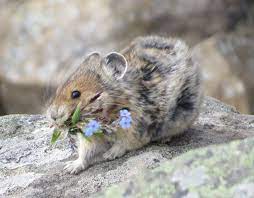 This training will cover the necessary information to contribute valuable data to a Pika "presence" database. This data is used by scientists nationwide to inform the development of environmental protection and alpine conservation strategies. Pika are an ecosystem indicator, which means if we know about them, we often have insight on the ecosystem as a whole. The whole process takes 2 hours and 15 minutes, if you include the hopeful minimum data gathering you do independently.
The location of the training itself will be indoors at Bark's Office at 351 NE 18th Avenue, Portland, Or. 97232. This event will be classroom style learning so bring pencil and paper. Gender neutral restrooms will be available.
This training will follow Bark's COVID-19 safety protocol. Space is limited. Masks optional but encouraged.
After the training, volunteers are highly encouraged to register a survey site and collect data at least three times in the year. Dedicated volunteers could collect data once or twice a month for an in-depth look at the pika populations and micro-climate conditions.
Thank you!
Questions? Email Haley, Bark's Forest Field Coordinator.